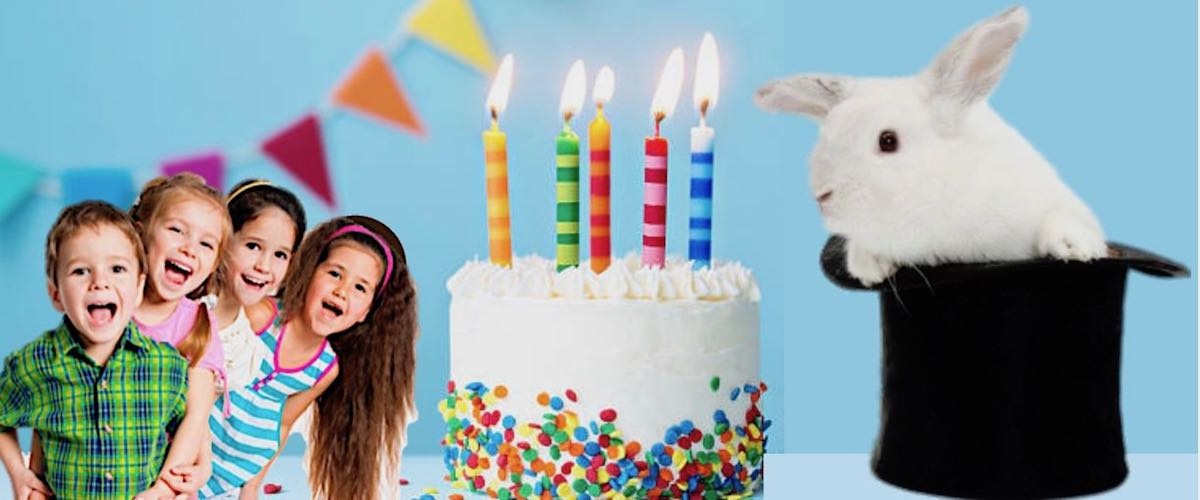 Children's Birthday Party Specialists, Creating Magical Memories For Kids.
*** FOR COVID SAFE BIRTHDAY ENTERTAINMENT *** CLICK HERE
Children's party entertainment has been supplying professional children's Birthday party entertainers for many years. In this time we are proud to have built up some very special relationships with hundreds of parents, helping us to become one of the most successful children's party entertainment companies in the UK.

SMILING FACES AND GIGGLES GALORE.
Whether our children's entertainers are performing a forty-five-minute comedy magic show or the full two-hour show for your child's Birthday party. You can rest assured they will always give a first-class, fun-filled, performance. They all know the importance of making the Birthday boy or girl feel like a million dollars and rightly so. The most important things in anyone's childhood are memories, and as your child's birthday only comes around once, a year its good to give them something that not only they, but their friends will remember and talk about for many years to come.

You can choose from our amazing choice of entertainers which include: magicians, clowns, wizards, witches, pirates, Punch and Judy, discos etc, but one thing is certain, your child will be made to be the star of the show. Our entertainers can perform anything from half-hour shows, right through to the full two-hour show which includes magic, games and competitions, music, fun balloon animals and prizes etc.

The shows can be tailored to suit any venue, whether it's in a small front room or in a large church hall. You can just sit back and relax and leave all the stress to us. We pride ourselves on giving a first-class, reliable, friendly service and very much look forward to your bookings and enquiries. Our acts will arrive in good time to set up and will give a first-class performance.

TAKING THE STRESS AWAY FROM YOU.
We realise that children's parties can be very stressful, especially if you have never organised one before. So by using our vast experience of providing children's entertainers for hundreds of shows every year, We will do all the hard work for you. We will take you through the booking process step by step making sure that we supply the right entertainer to suit your requirements, making your child's special day one that will be remembered for years to come.

Please remember that 85% of our work comes from repeat bookings and recommendations from other satisfied parents. But don't take our word for it, mention our name to your family or friends and the chances are they have used one of our entertainers before, as we have been in the party business for many years.


WHY SHOULD I USE A REPUTABLE, WELL ESTABLISHED COMPANY?
Many parents worry about which entertainer they are going to book by trawling the internet or looking in the phone directory, taking pot luck when it comes to booking an entertainer. But by using a well-established company such as ours, you can be assured that ALL our exclusive entertainers are professionals, meaning this is what they do for a living. They don't have normal jobs and do this at the weekend, they are all full-time children's entertainers, this is their chosen profession.

Over many years in the business, we have heard all the horror stories. Unfortunately too often, we receive calls into the office from parents panicking trying to find someone to help them, as they have been let down on the actual day of their child's party by a so-called entertainer. Leaving the poor parents to try and handle 30 hyper children for 2 hours, or such tales of people booking sub-standard entertainers who can't control the children, or the entertainer has turned up but doesn't have the relevant safety certificates so the person in charge of the venue will not let them in to perform, and much worse, we could go on and on.

DON'T WORRY, YOU CAN REST ASSURED.
Our entertainers receive paperwork containing their weekly itinerary, plus we have follow-up checks in place as an added precaution. So there is no chance of them not turning up at your child's party.

SAFETY AND PEACE OF MIND.
All our exclusive entertainers have at least 10 years of experience of entertaining children and know exactly what they are doing. They have been fully vetted and hold enhanced Police check certificates which deems them fit and proper to work with children. They all use professional sound equipment so that they can be heard clearly during their performances (helping them to stay in control at all times) which has also been PAT tested for safety. And they all hold Public Liability Insurance of up to £10 Million. Without the aforementioned 3 safety criteria, more and more venues will not let an entertainer perform on the premises.