Show Package
Balloon Modelling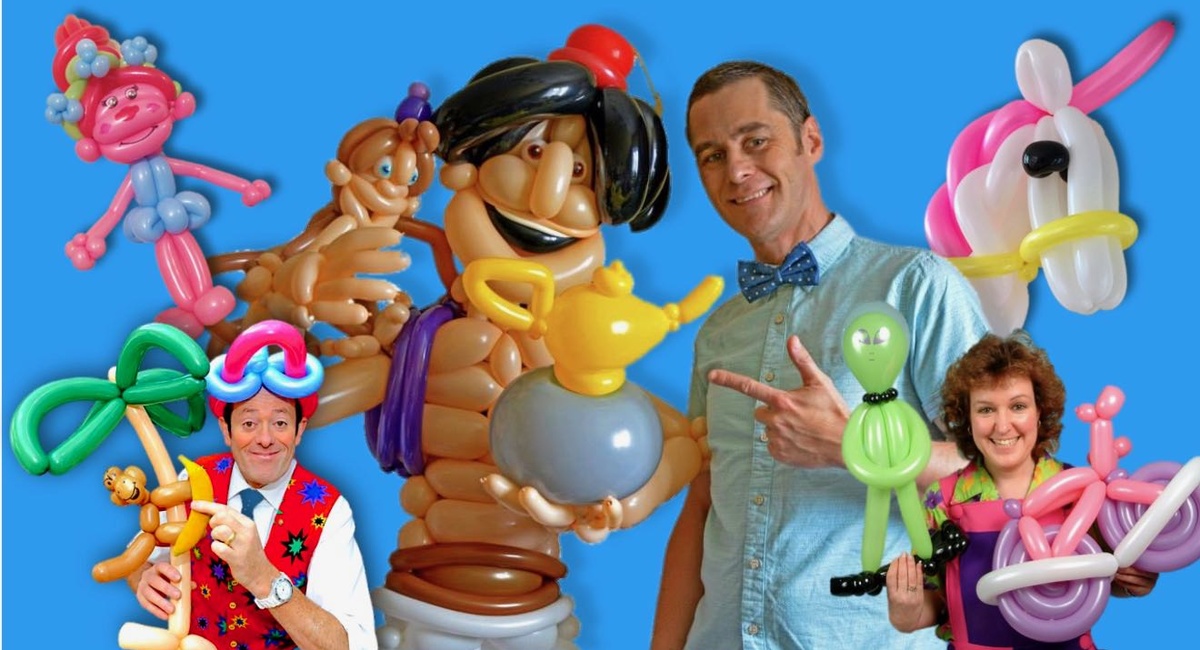 Balloon Modelling, Balloon twisting, and balloon Sculpting.
Balloon modelling, balloon twisting or balloon sculpting is the art of twisting and shaping special modelling balloons into any given shape. The entertainers who do this are known as either Balloon sculptors, balloonologists, balloonists, balloon twisters or balloon modellers. Whatever you want to call them children's party entertainment boasts some of the top balloon twisters in the UK.
Our amazing balloonists don't just make the standard poodles just like so many other so called balloon modellers. They can make such amazing creations as motorbikes, aliens, helicopters, snowmen, ghosts, Snoopy Dogs, Super Heroes such as Spider man and
Bat man, butterflies, Frogs, Swans, a monkey up a tree, mermaids and much more.

In fact any animal that you can think of (within reason) such as Dinosaurs, Elephants, Dolphins, Horses, Teddy Bears, Bumble Bees, Penguins, Plus many children's favourites such as Peppa Pig and Ickle-Pickle.
They can also make a vast selection of Hats and Crowns, for both boys and girls. They can also twist balloons into Swords, Laser-Blasters, Star Wars Light Sabres, the list is endless and only limited by your imagination.
Our balloon modellers work everywhere and anywhere from Private Parties such as Birthdays, Weddings, Christenings. Plus many Corporate Events such as Store openings, Product Launches, Summer Fetes, Festivals, and Christmas, Halloween and Easter events up and down the UK. Our balloon modellers can also be dressed in a theme of your choice, such as a Wizard or Witch, Pirate, Clown, Princess, plus many more characters.
Balloon sculpting is an ideal entertainment that can be tailored to suit any event. The added bonus of balloon modelling is your customers or guests are entertained but also get to take home a colourful memory of your special day or event.

The perfect entertainment in any situation where you may have queues forming. You can take your guests/customers minds off of queuing by having one or more of our balloon twisters walk up and down the lines. Also if you book one of our many amazing face painters they work well with balloon modellers as they can twist balloons for the children whilst they queue to have their faces painted.
Don't forget! We also run Balloon Modelling Workshops for Private Parties, Schools, Scout and Girl Guides Groups, and many other clubs and organisations.
Balloon Modelling for Birthday Parties and Special Occasions.
A Balloon modeller is the perfect choice to entertain at a Birthday Party, Christening, Wedding, Family Party where you have limited space, for instance you may have a Birthday event where you have also hired a bouncy castle. So our balloonists can set up in a corner out of the way and twist balloons for the children throughout the party. Or you may have a Wedding or family meal where the children are all seated at tables after a meal and have no space in the room for a magic show to take place. Our Balloon Modellers can walk around from table to table entertaining the children with balloon sculpting so they have no need to run around .

Balloon Modelling for Corporate events.
Our Balloon Workers are a great addition to any corporate event. Such as a company picnic or fun day bringing colour, fun and laughter as they interact with the children cracking jokes and generally having fun with them. They are also great for Promotions in Shopping Centres not only for increasing foot-fall but as the children leave the store with the amazing balloons other parents and children ask where they got the balloons from. and they will be directed to you store.
Please note our entertainers only use top quality professional balloons and equipment and our balloon modellers are fully insured.
So if you are looking for balloon modelling in the Portsmouth, Southampton, Winchester, Chichester, Guildford, West Sussex, Hampshire, Berkshire, Dorset, Surrey or Wiltshire areas, we can help. Simply call us or fill in the booking enquiry form, and we'll do all the hard work for you.